Welcome to day 29 of a 30-day tribute to the history of Duluth's favorite
sons, Bone Appetit. Use the Calendar at right to view days you missed.
| | |
| --- | --- |
| April 29 - | One Last Time, With Feeling |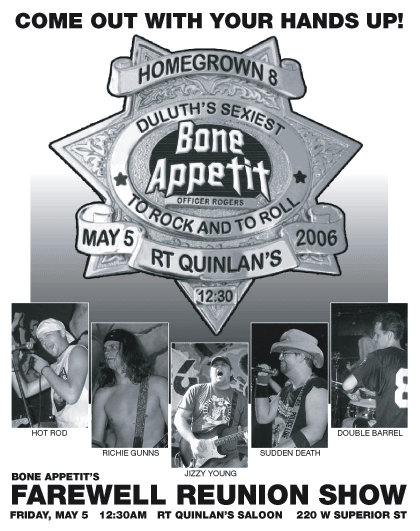 Download the printable PDF - 4MB

Well the big show is under a week away. April has flown by and today is the second to last day of April Schlock Brings May Rock.
The show this coming Friday may very well be the last time Bone Appetit plays. Sure, there will be the detractors that remind us the band has said they were calling it quits before; their very first show outside their basement for instance. This time though it feels like perhaps it really is goodbye, and are you sure you'd want to risk missing it?
Love, life, and rock n' roll have taken this story's unsuspecting heroes into different directions. As time goes by it will be harder and harder for the band to gather again to play as one. Perhaps it is time to hang up the pleather, fishnets, and cowboy hats. Time to turn down the amplifiers, and put shirts back on. Time to admit that that it isn't just about girls and booze anymore.
But not before this Friday night...
---
Love, Lust, and Rock n' Roll
Download the entire album
FREE in
MP3s
---
HOMEGROWN 2006
BONE APPETIT will play
on Friday Night, May 5th
at 12:30AM at RT Quinlan's.
---
See
Bone Appetit videos

at

---
---
Check us out on