Welcome to day 5 of a 30-day tribute to the history of Duluth's favorite
sons, Bone Appetit. Use the Calendar at right to view days you missed.
April 5 - Suddenly Death Shows Up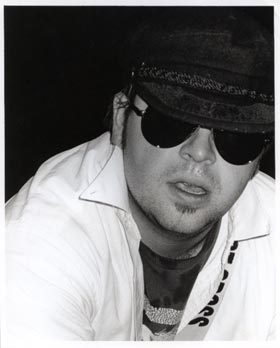 What can be said about Sudden Death? He's part enigma, part virtuoso, and part madman. Although not technically a founding member of the band, he has been an integral part of Bone Appetit since the very earliest days. Death was a high school pal of drummer Double Barrel in the Twin Cities and the two rocked his family's garage and recorded a small number of tracks together under the name Goulash for a brief time. Death was a competent guitar player long before he became the bowel-rattler that Duluth knows him as, and actually began playing rhythm guitar for Bone before jumping to the bass.
It was decided before the first homegrown that it would be a good idea to thicken up the band's sound, especially considering all the solos Richie was being required to play and the evident lack of skill in the rhythm section. Enter Sudden Death. Although for several years he lived in Minneapolis he willingly made the pilgrimage up North at a moment's notice to play, and eventually moved to Duluth for a time.
No one could have predicted how quickly Bone Appetit would assimilate this fresh-faced lad and change him into one of rock n' roll's biggest badasses.
Highlights of Sudden Death's tenure with Bone Appetit include a wide variety of unpredictable and amazing moments that, for a time, earned him the nickname "Sudden Drunk." A particular one of note includes him throwing down his guitar mid-song at a party in the old Emerson School and disappearing for the rest of the night, only to show up on Barrel's doorstep at 4am looking tired, confused as hell, and missing his glasses. All he remembered was stumbling down the hill from the party and falling asleep in a random apartment building in the laundry room.
Another infamous story has Death scheduled to play one of his first solo shows on the Norshor Mezzanine. He cashed in all 3 of his drink tickets at once, receiving a pint glass full of Jagermeister in return. In a moment that can only be described as "Weekend at Bernie's", Richie and Double Barrel had to carry Death out of the bar and back home a full half-hour before he was even to begin his set.
But Sudden Death is so much more than drinking-story punch lines entail. He's a prolific songwriter and gifted musician, and his many credits include "Screamin' Wheels", "Wrecking Yourself", "Mainstreet Angel", and "Fell Asleep at the Knife." His style and attitude set a precedent in the band that was tough, if not impossible, to match.
Death is also easily one of the best dressers in Bone Appetit. Unfortunately this page cannot showcase all the various cowboy shirts, glitter pants and hats he adorned over the years. He is also the band's resident Guns n' Roses expert and still eagerly awaits their long-promised Chinese Democracy album.