Welcome to day 17 of a 30-day tribute to the history of Duluth's favorite
sons, Bone Appetit. Use the Calendar at right to view days you missed.
April 17 -
Stuff only Bone Appetit was dumb* enough to do:
Part I

* or brilliant
It's time to take a bit of a break from the scheduled posts and simply turn our attention to a random collection of memorable moments that could only really happen with Bone Appetit. (Because you haven't witnessed any ridiculousness yet, right? Ok, good.)
On June 27th, 2002 Bone Appetit was invited to play at Wade Stadium as in-game entertainment for that day's Duluth Dukes minor-league baseball game. They were jeered by the group of Boy Scouts in attendance, ignored by the fans, yelled at by the staff for swearing in all their songs, and obviously never asked back.
On the positive side, they got unlimited free beer which they shared with a handful of friends who "joined the band that very day." Double Barrel also knocked over a small child while attempting to run down a foul ball. He felt terrible.
Bone Appetit had their second "big-show" on March 2nd and hosted a pre-show soiree catered by a local, aspiring chef. The band was lazy enough to leave their half-full crock pots and cheese trays in the upstairs hallway of the Norshor for well over a week, causing an awful stink. Also at the event, several vagrants wandered in off the street and started grabbing quesadillas out of the steam trays and had to be chased off.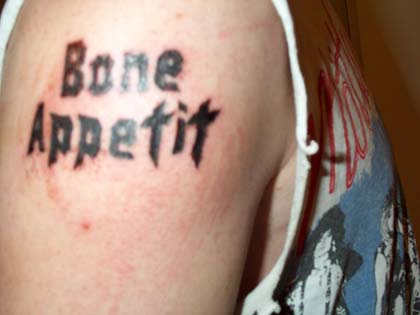 Hot Rod, and then later Richie Guns got their arms tattooed with the band logo. Befittingly, Richie's looks professionally-done and artistic whereas Hot Rod's looks like he gave it to himself in prison.
Richie Gunn's dad made a special guest appearance with the band at Homegrown 4, in full stage attire, to play a cover of "Joy to the World" by Three Dog Night. You can listen to the live recording of that performance below.
Joy to the World (Live).mp3 - 4.4 MB
Originally it was planned to have Hot Rod's father appear on stage as well, to sing the song. In the end though it was just Richie's dad that could make it that night. It is remembered that his muscular physique upstaged Duluth's Sexiest Band and distracted some of the ladies in the audience.