Welcome to day 11 of a 30-day tribute to the history of Duluth's favorite
sons, Bone Appetit. Use the Calendar at right to view days you missed.
| | |
| --- | --- |
| April 11 - | Check out our web site |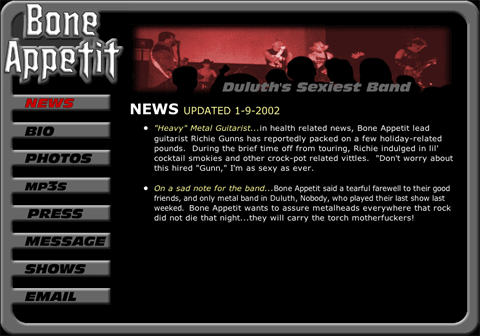 Bone Appetit was always a band that tried hard to satiate their fans' need for information and novelty, and were prone to utilize whatever means were available to do so. As a result, Bone Appetit has had a presence on the Internet since the very inception of the band.
The very first version of the web site was hosted on UMD's servers. While other students were posting their resumes and dissertations, Hot Rod graciously volunteered his personal site to the band for posting pictures of them all in women's pants and looking drunk as hell.
The earliest days of Bone Appetit on the web were even picked up by the always fun Wayback Machine, the automatic archive-keeper of the Internet. Check the link to glimpse into the band's past (and be reminded of a couple of crazy shows they played (Knight Crawler? Mindy Gunn? Bet you forgot about those!).
The band's web site was even good enough (back then at least, when standards weren't so high) to warrant an article featuring it in the Ripsaw News. You can read that original article here.
In the winter of 2000-2001, an important transformation happened, where Bone Appetit learned to play their instruments well enough to no longer deserve the name "Duluth's Worst Band." Now we won't get into who that title was passed on to, but the band needed a new moniker and logically, only one fit. Bone Appetit was henceforth known as "Duluth's Sexiest Band," and they acquired the rights to sexiestband.com which they still use to this day, mostly as a promotional vehicle for the band's shows.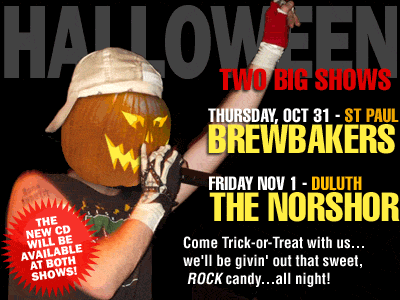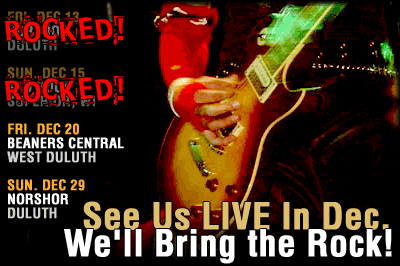 Over the years the Bone Appetit web site has had periods constant update and activity, to months of collecting virtual dust. Throughout it all though, the Message Board has been the haven of the true fans, band members, and Viagra peddlers. If you haven't bother to look in a while, check it out for comments on these postings and general nonsense.
---
Love, Lust, and Rock n' Roll
Download the entire album
FREE in
MP3s
---
HOMEGROWN 2006
BONE APPETIT will play
on Friday Night, May 5th
at 12:30AM at RT Quinlan's.
---
See
Bone Appetit videos

at

---
---
Check us out on