Welcome to the first day of a 30-day tribute to the history of Duluth's favorite
sons, Bone Appetit. Use the Calendar at right to view days you missed.
April 1 - "Brotha Sol"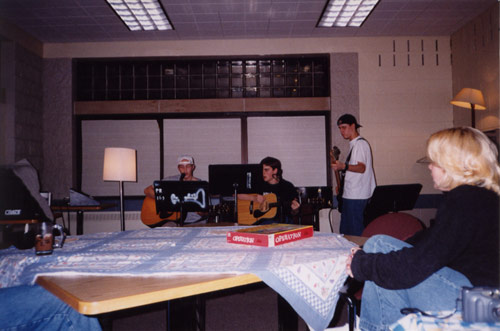 This is the first known photograph of Bone Appetit members playing music together. Taken in the Spring of 1998 it shows The Maestro, Richie Gunns, and Double Barrel (on bass no less!) playing at the UMD dorms. The event was called The Big Easy, probably because it was a big pile of alcohol-free no-fun and it was far too easy to get a gig at.
Tragically the guys played under the name Brotha Sol that night, to the strong objections of Double Barrel. It was a show of purely covers, ranging from Clapton's "Wonderful Tonight" to Poison's "Every Rose Has It's Thorn". Oh yeah, and Richie opened the show with "The Star Spangled Banner". I'd say about 4-5 people attended the event, one being The Maestro's girlfriend and another the mandatory Resident Advisor who had to be there for insurance purposes.
This was long before we knew Hot Rod, and it is likely that on this Friday evening he was off somewhere getting drunk and lucky.
---
Love, Lust, and Rock n' Roll
Download the entire album
FREE in
MP3s
---
HOMEGROWN 2006
BONE APPETIT will play
on Friday Night, May 5th
at 12:30AM at RT Quinlan's.
---
See
Bone Appetit videos

at

---
---
Check us out on