Welcome to day 22 of a 30-day tribute to the history of Duluth's favorite
sons, Bone Appetit. Use the Calendar at right to view days you missed.
| | |
| --- | --- |
| April 22 - | The Man with Two Barrels |

** Today was Hot Rod's Birthday!**
Double Barrel was a founding member of Bone Appetit, and had he not volunteered to pick up the drumsticks and learn to play, it's questionable whether or not Bone Appetit would have happened, at least in its existing form.
He met fellow UMD students The Maestro and Richie Gunns in the fall of 1997 while living in the same dormitory complex. They became fast friends and played in the aforementioned Brotha Sol before finally moving on to form Bone Appetit. Via his personal relationship, Sudden Death was brought into the fold as well, rounding out the initial Bone Appetit lineup.
It could be argued that his contributions to the band away from the stage were more influential and bear his signature better than the sometimes unsteady rhythms from his kit. Barrel was responsible for the Bone Appetit website, print designs, stage lighting (and fog!), media contacts and booking, band historian, main gear hauler, bass gear supplier, technology investor, part-time financier, and Hot Rod's wallet cleaner.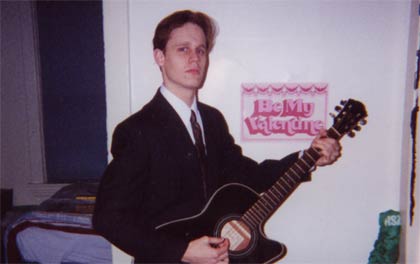 Double Barrel always secretly wanted to play the guitar on stage.
He is also the unfortunately target of many pranks at the hands of his bandmates that include; taping his computer mouse to the mouse pad, spilling Ranch dressing on him, Kool-Aid in the shower-head, icons that would mysteriously fall off his computer's Desktop,
Double Barrel's relationship with the band has always been an interesting one. His dedication to the promotion of the band at all costs was sometimes countered by a sense of disappointment concerning its actions. His anal-retentiveness oft clashed with the more laissez-faire attitudes of the others, particularly as a show time neared and Barrel was left fretting about the preparedness, or even whereabouts of the others.
DB's role in the band is certainly important in terms of its history, and it could be speculated apon as to how much his efforts on many fronts contributed to the success and popularity of Bone Appetit in the Duluth music scene.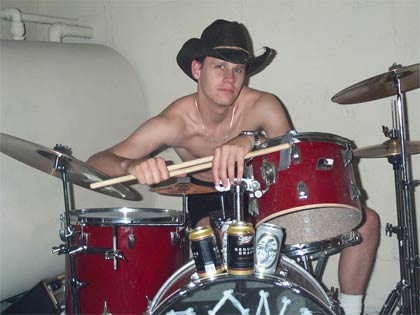 This photo has been seen by far too many of DB's employers and
co-workers and will likely haunt him if he runs for public office someday.
In the fall of 2004, Double Barrel left Bone Appetit to pursue a career opportunity out West and he currently lives in Seattle, WA. He will be making a special return to Duluth specifically for Bone Appetit's 2006 Homegrown showcase and is very much looking forward to a reunion with the band.