Welcome to day 28 of a 30-day tribute to the history of Duluth's favorite
sons, Bone Appetit. Use the Calendar at right to view days you missed.
| | |
| --- | --- |
| April 28 - | I See You In The Crowd, I Know You Love It Loud |

Today post is dedicated to the amazing fans and friends of Bone Appetit. Without you this band wouldn't be the sexiest, or the worst, or any other number of adjectives. We wouldn't even exist. It's thanks to the endless enthusiasm and support of not only people in Duluth, but our friends from all over that Bone Appetit has been able to play out for the last 6 years.
You bought the CDs, wore the t-shirts, and were patient when we wanted to play something new. You dragged their reluctant friends along to shows, and then likely had to apologize on our behalf on the ride home.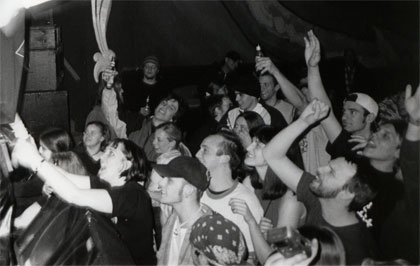 It was your frenzied pre-show chanting of "Bone Ap-petit! Bone Ap-petit!" that not only fired us up before we took the stage, but it also helped catch the eye of promotors and other bands, opening the door for us to play even more. Bone Appetit was the envy of many Duluth bands because of how passionate and dedicated you were. Every band wants fans like we were fortunate enough to have.
Unfortunately not as many photos exist of Bone Appetit's fans as we had hoped, and so what is represented here is a very small glimpse of the crazy, drunken parties that happened at our feet.
Bone Appetit can truly count ourselves lucky. Our fans have afforded us the rare experience of feeling like genuine rock stars. Many of you deserve to be called out by name here for your years of friendship and loyalty, but the list is long and I'd be afraid of forgetting somebody. You all know who you are, and why we love you.
Our wonderful fans elevated us far above what we deserved, and every night our little rock n' roll band was lucky enough to play on stage in front of you all is when we found our greatest joy.
Thank You. Thank You. Thank You.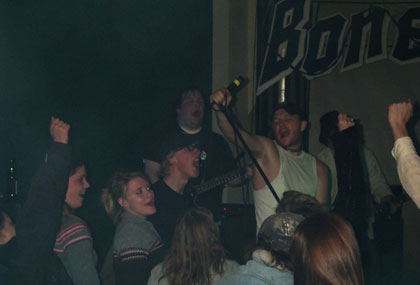 ---
Love, Lust, and Rock n' Roll
Download the entire album
FREE in
MP3s
---
HOMEGROWN 2006
BONE APPETIT will play
on Friday Night, May 5th
at 12:30AM at RT Quinlan's.
---
See
Bone Appetit videos

at

---
---
Check us out on