Welcome to day 15 of a 30-day tribute to the history of Duluth's favorite
sons, Bone Appetit. Use the Calendar at right to view days you missed.
| | |
| --- | --- |
| April 15 - | Bone Appetit forces the country to reconsider freedom of the press |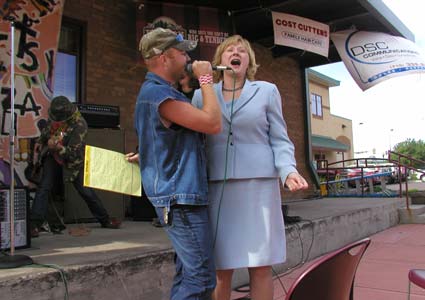 Earlier, on April 13, it was shown how Bone Appetit had captured the hearts and minds of the alternative press in Duluth and co-opted large amounts of free publicity, despite their lack of polish or intellectualism.
Perhaps even more baffling however is that Bone Appetit somehow managed to thrust themselves into the mainstream media as well, subjecting the hapless citizens of Duluth to their brand of rock n' roll, something better confined to smoky bars and STD clinics.
One of the band's first opportunities for exposure was on local rock radio station KRBR, THE. BEAR. DJ Kyle Kaine featured Bone Appetit the fall after their Homegrown debut on a show dedicated to local music. This is right around the birth of the band names, and at this point Double Barrel was still without an identity. He appeared on that show as either "AC Slater" or "Tom T. (Tom) Snare."
Kaine also hooked up Bone Appetit to appear on Modern Rock Twin Cities, a Minneapolis-produced music show on which Hot Rod simulated committing suicide in the Beaner's parking lot to the nervous laughs of band mates and the TV crew.
During the Johnny Heartless era, Bone Appetit managed to score a 6:45am gig on KDLH news' morning TV show. Hot Rod, Richie, and Heartless showed up quite hung over at the television studio after staying up all night playing at a house party. They wore glasses to cover their bloodshot eyes (or perhaps to block the glare coming from Heartless' high-tops), but managed to perform a respectable version of the power-ballad "Alyssa". You can view the video below, and make sure to take note of Hot Rod's impressive guitar "playing".
KDLH wasn't the only Duluth TV station that wanted a piece of the Bone though. Local NBC affiliate KBJR invited Bone Appetit to perform at the first of their Concerts on the Plaza series in the summer of 2003. They set up that afternoon in the bright July sunshine and played for over two hours, likely scaring many Canal Park tourists into opting for Wisconsin Dells the next year.
The band appeared on air for only a matter of minutes, but made the most of it by getting anchorwoman Michelle Lee to not only say the word "Jizzy", but also "Give us some burning love." That video is available here as well. Keep your eyes peeled for Max Blast and the always affable Mike Wilson in attendance.
Finally, Bone Appetit received a cover story article in The Wave section of the Duluth News Tribune. The piece featured an interview with band members and photographs taken at their rehearsal space.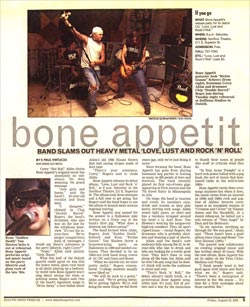 Click for full-size, readable version