Welcome to day 6 of a 30-day tribute to the history of Duluth's favorite
sons, Bone Appetit. Use the Calendar at right to view days you missed.
April 6 - Vying for a chance to hang with the cool kids
In the early spring of 2000, Double Barrel insisted Hot Rod go with him to the Norshor Theater in a pathetic attempt to meet and schmooze with the local rock scenesters. They attended a show where Al Sparhawk's short-lived side project, The Tooth Fairies, played along with a few other bands including Giljunko. The night was fairly uneventful, however on the way out of the bar, Barrel spotted an application form to play at the annual Homegrown Music Festival (then in it's 2nd "official" year), and he realized his mission was to get Bone Appetit a slot on that bill.
New to the concept of being in an actual band, he (somewhat correctly) assumed that image was everything and deemed it necessary to put together a professional looking press kit that would make as big of an impression as their sound would. It would be necessary to showcase not only the band's personality, but also their professionalism and ability...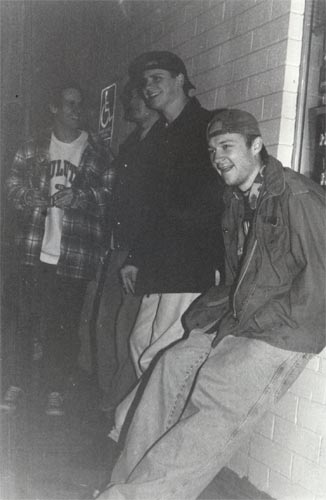 A photo shoot was conducted at the local Spur gas station that attempted to convey the band's easy-going nature and approachability. Looking like the biggest bunch of tools in town, the photos succeeded only in making it appear that Bone Appetit were founding members of the backwards-hat club. Double Barrel looked especially dopey sporting a baggy quilted flannel and a Duluth police sweatshirt - way to go, rock star.
The shoot quickly broke down into an exercise in ridiculousness as The Maestro kept grabbing random items off the shelves pretending to be shopping. The band did however get a few photos they could use for the press kit, and Richie most likely got a Hot Pocket, a pack of Camels, and a Mountain Dew.
Accompanying the photos and the aforementioned CD was the following biography, talking up the band's relative strengths (and using their real names!).
BONE APPETIT
Cory Ahlm Vocals
Ryan Van Slooten Lead Guitars
Andrew Ellis Bass
Chip Rogers Drums
Josh Scheerz Rhythm Guitars
This five piece rock/power pop group started when four college housemates decided that drinking cheap beer in a 5-foot tall basement with Will Smith on the boombox was no way to have a good time in college.
With a name that comes from the worst joke ever printed on a Dixie cup (at least it's marketable…), these five set out to play the most energetic, loud and catchy tunes in Duluth. Through only a few shows, they've managed to gain a faithful following around the UMD campus.
Each member of Bone Appetit brings something unique to the band and their on-stage chemistry makes their shows unforgettable. Ryan Van Slooten is responsible for the tasty riffs in all Bone originals. Andy Ellis and Chip Rogers make for a tight and explosive rhythm section that drives the music. Cory Ahlm, the band's equal opportunity vocalist sings songs of brain invasion, love for his $50 car, and lust for a skull (????). All this while rolling in whatever happens to be on the floor at the time. Oh yeah, and Josh, he just kind of joined the band to drink for free…
They recorded their CD in order to appease their devoted fans and land more gigs. It contains 4 originals and some of their more popular covers played at their shows. Recorded live on a four-track in their basement, it half-heartedly conveys the craziness of a genuine Bone Appetit show.
This band is out to make a name for themselves in the Twin Ports and hopes to expose as many people as possible to their brand of obnoxious, loud and memorable rock and roll.
God knows exactly what went through the heads of the Homegrown bookers as they opened the manila Pandora's box that was Bone Appetit's Homegrown application. Meanwhile the band nervously awaited their fate. Would they make the cut, or would they be forever relegated to the basement? ...
---
Love, Lust, and Rock n' Roll
Download the entire album
FREE in
MP3s
---
HOMEGROWN 2006
BONE APPETIT will play
on Friday Night, May 5th
at 12:30AM at RT Quinlan's.
---
See
Bone Appetit videos

at

---
---
Check us out on