Welcome to day 9 of a 30-day tribute to the history of Duluth's favorite
sons, Bone Appetit. Use the Calendar at right to view days you missed.
April 9 -
Drummers are to Spinal Tap as
Bass Players are to _________
If there is one position in the band that seemed in a state of constant flux, it was the man in charge of keeping the booties in the audience shaking, the bass player. That is of course until Sudden Death took over the instrument...
Shortly after Homegrown 2, summer vacation began for UMD students and thus the band went on hiatas for three months in 2000. Not everybody would be returning to Duluth that fall however, as founding member The Maestro chose to not continue his education in Duluth. This left Bone Appetit with a slot to fill, and fast, as their star was rising.
Mr Ten
Looking close to their base (no pun intended), they found a replacement in the form of Mr. Ten, a UMD baseball jock with a penchant for playing music. Ten actually attended many of Bone Appetit's early basement shows as a fan.

Mr. Ten
In an interesting bit of irony, it is remember that for a particular basement show Richie Gunns had the goal of flipping his guitar pick to an random attractive girl in the audience. He had practiced the manuever for days, however when the time came to execute his aim was off and his pick hit the exposed ceiling beams and fell at the feet of Mr. Ten instead, who promptly scouped it up and pocketed it.
One of the best memories of Mr. Ten is of his performance in the basement when his bass amp failed and he had to plug into the mixing board directly so as to be heard at all. However his instrument cord was only about six feet long and Double Barrel, fearing for the safety of his equipment investments, simply chose to unplug the bass guitar as Ten was straying too far from his position. Several minutes later Ten stepped back mid-song complaining that his could "barely hear himself."
Although his time in the band was to be short-lived, he was memorialized in song in "The Balad of Mr. Ten", a track affording him a tragic end to his life (not true at all), for which no known recording exists.
Blade Phillips
Bone Appetit's next 4-stringer would be the veritable Blade Phillips, a local esteemed musician with ties to several other bands. His tenure with the band would include several performances of note, including their first big headline show, for which he appeared on the flyer attempting to light nine cigarettes in his mouth at once.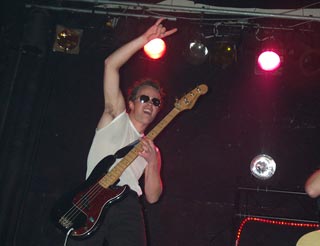 Blade Phillips
Blade was one of the more accomplished and proficient bass players Bone Appetit has seen, and also came with the rare bonus of owning his own bass gear. One particular piece of equipment he used, a set of two 10" bass speakers that began to melt down during one practice, led to a obscure Bone Appetit song called "Smell Machine" that few can recall about other than the chorus "Come on baby, let me put my face into your smell machine / You're the stinky queen of my midnight dreams"
Blade would move on to bigger an better things however, as he is now the new bass player for Duluth's biggest musical export Low. It was figured out with the help of All Music Guide, that Richie Gunns is now somehow loosely connected with Steve Vai via six degrees of separation.
The bass was also played on several occasions by the always unpredictable Max Bass, as well as Two-Time Myer and the only woman to ever play on stage with Bone Appetit, Titty Sixx.

Max Bass